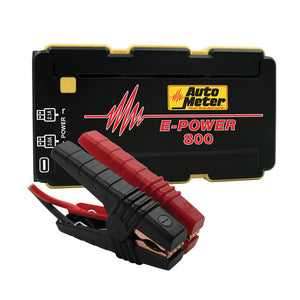 How many times have you come out to your Maverick and the battery is DEAD and all you wanted to do is just drive it?  Maybe you were at a car show and your battery died because you left your fans or fuel pump on?   What your next step in a time like this? You either need to charge it for hours (if you're lucky enough to have a charger and be at home). OR find someone with jumper cables without making something thinking you are trying to rob them. lol! 

Your problem is now solved. You heard about them, and maybe you seen the AAA actually use them on your car?  The Autometer Jump Starter 12V Emergency Battery Pack is exactly what you need for piece of mind!
AutoMeter E-POWER 800 power packs are the ultimate jumper kits, with a 4-in-1 jump starter, power bank battery, laptop power bank battery, and flashlight. The power pack can jump start a car up to twenty times per charge. Save money and time on calling tow trucks or waiting for help to arrive with your own easy to operate E-POWER 800 power pack.

Benefits of AutoMeter E-POWER 800 Jump Starter:
* A strong 800A Peak / 2220 MAH Jumper.
* Quick charging USB ports--charges virtually any USB device such as phones, tablets, digital cameras/video, laptops, and much more. (Output 1: 5 V/3 amp, 9 V/2 amp, 12 V/1.5 amp, Output 2: 5 V/2.1 amp, 3 amp Type-C Power Input/Output)
* Included safety jumper cables offer protection from reverse polarity, short circuit, reverse charging, low voltage, and overheating
* LED flashlight with torch mode, SOS, and strobe
* Includes compact jump starter, smart jumper clamps, type-C USB cable, carrying bag, and instruction manual
* Lightweight and easy to handle
* Provides peace of mind when you are away from typical sources of electricity
* For up to 4.5L gasoline engines and up to 3.5L diesel engines