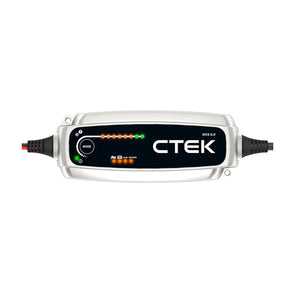 When you put your Ford Maverick or Mercury Comet away in the garage, when will be the next time you will drive it? The next day? Maybe in a week? Maybe in a Month? You know what happens to a battery when it just sits right?  Right!  You try to get back in your Maverick or Comet and try to start it and it's Dead! That Frustration at it's finest!
Well here at Maverick Man we use the CTEK Battery Tender to keep all our Maverick charged and ready to go when they are in storage. 
Overall the MXS 5.0 is a versatile battery charger in a compact format that makes it convenient and easy to charge and maintain your Maverick or Comet.  Even the special cold mode means that you can also charge during cold winter days without problems.
The MXS 5.0 offers a unique eight-step approach to battery care.
Fully automatic microprocessor controlled charger with built-in automatic temperature sensor features a unique combination of advanced charging modes and makes the new MXS 5.0 the fastest, most effective, and versatile consumer charger CTEK has ever made. Alligator clamps and eyelets included.
The MXS 5.0 features capabilities for improved charging in all weather. It is the perfect charger for the user with multiple vehicle types and higher demand battery charging and maintenance requirements. The MXS 5.0 offers features such as a special reconditioning function that restores stratified and deeply discharged batteries, unique maintenance charging, and the charging of demanding AGM batteries (i.e. Optima). The charger is splash and dustproof, designed to protect vehicle electronics and non-sparking, reverse polarity protected, and short-circuit proof. It is delivered with a 5-year warranty. Provides an outstanding charging experience!
FOR ALL TYPES OF LEAD-ACID 12V BATTERIES (WET, EFB, MF, CA/CA, AGM, AND GEL.
  It is also perfectly suited for Optima Red Top batteries which many Maverick owners use.
Remember unused batteries lose their power and their life is shortened through sulphation. It is also more difficult to charge sulfated batteries. The MXS 5.0 has a patented method for reconditioning sulfated batteries. The charger analyzes the state of the battery and, if possible, recovers the battery and its power.
All CTEK models are designed to consider the safety of the user. They are spark free, making the connection much easier and safer considering the gases batteries normally produce. The MULTI US 3300 is also protected from reverse-polarity connections and is short-circuit proof. A red light on the charger will simply indicate that the charging cannot begin until the user has connected the charger correctly.

Includes two interchangeable connection leads, one with clamps, and one with eyelet terminals.