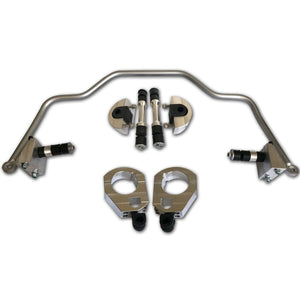 Sway Bar Rear Stabilizer Bar with Billet Holders for Rear and Front for Ford Maverick. Manufactured in T-6061 aluminum CNC in polished finish.
Each kit comes with a Pair of billet holders for chassis,  
Billet support for differential with bushings, Billet sports pair with bushings for secure bar and Billet Endlinks. 
All stainless steel fixing screws are included. 

Will not fit 69-70 models with 4 lug rear end.  
These products are bought in though Brazil where the Maverick is a very popular and unconditional loved "muscle car" since there are no other Ford "muscle cars" in South America. These cars can reach up to
$100,000!
  They take pride in the Mavericks and the quality of these parts are better then most if not all mass produced after market parts sold in the US. Shipping can be quite a shock on these parts. However these are shipping right from Brazil (South America) thus the higher shipping cost and
 import 
taxes. However if you are looking for the best of the best for your Maverick these parts are the highest quality you can get!