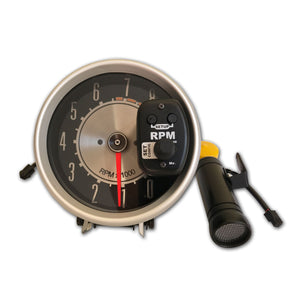 Looking for a Tach that matches your Ford Maverick Cluster.? This is the only Tachometer out there on the market that matches the factory design of the OEM Maverick gauge cluster.  
Tachometer Monster 5" our 125mm for Ford Maverick - 8000RPM
Compatible with all year and car models;
Peak memory (hard finger);
Pointer / head with retro look, similar to original;
Dual stage shift light cannon, illuminates blue and red light;
Display made of stainless steel;
Configuration for use with single coil, original modules and MSD ignitions. 
Machine calibrated and certified with stepper motor technology with ultra fast and precise response;
4 led colors available for configuration (green, blue, red and white);
manual assembly all with information;
High quality of finish.
These products are bought in though Brazil where the Maverick is a very popular and unconditional loved "muscle car" since there are no other Ford "muscle cars" in South America. These cars can reach up to $100,000!  They take pride in the Mavericks and the quality of these parts are better then most if not all mass produced after market parts sold in the US. Shipping can be quite a shock on these parts. However these are shipping right from Brazil (South America) thus the higher shipping cost and import taxes. However if you are looking for the best of the best for your Maverick these parts are the highest quality you can get!